Australian anthems: Nick Cave – Into My Arms | Music | theguardian.com.
A plangent piano ballad played at the funeral of Michael Hutchence, this ode to loss and sorrow has comforted generations of listeners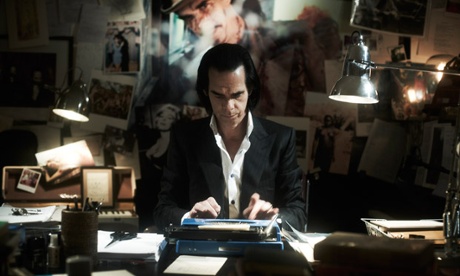 Nick Cave understands the love song. His can be hopeful or angry, loud or raucous, but they press down on your chest, pick you up briefly, and then dump you right back down again. They explore – as Cave says himself – the darkest regions of the soul.
Sorrow has always formed a part of Cave's songwriting. In his lecture The Secret Life of the Love Song, he traces the genesis of his own artistic expression and identifies the one event that catalysed the process – the death of his father when he was 19. "I see that my artistic life is centred around an attempt to articulate an almost palpable sense of loss that laid claim to my life," he says.
The songs became his emissaries, drawn from that desire to explore the sorrow, the pain and the anger that he says "have whistled through my bones and hummed in my blood".
Into My Arms, which opens the album The Boatman's Call, is Cave's most haunting love song. A quiet piano ballad, its plangent melody mournfully hymns the end of two relationships. Full of beautifully limpid songs, the 1997 album was a world away from Cave's more confronting earlier work with the Birthday Party and the Boys Next Door. In the process, it opened up his music to a new audience.
Cave has became revered in Australia, although some have found this strange. While he grew up in Melbourne, he spent many years wandering, living in Berlin, London andSão Paulo. His songs don't yearn for his home country. But his voice has a coarseness that is unmistakably Australian, and he is a standard-bearer for a darker side of the country's artists who are boldly unafraid to explore and experiment.
Cave counts Into My Arms among his most treasured creations. In The Secret Life of the Love Song he says: "Mostly, they were the offspring of complicated pregnancies and difficult and painful births. Most are rooted in direct personal experience and were conceived for a variety of reasons, but this rag-tag group of love songs are, at the death, all the same thing – lifelines thrown into the galaxies by a drowning man."
The song at its heart is about loss and the sorrow that flows from it, whether it's the end of a relationship or the death of a friend or family member – Cave sang the ballad at the funeral of Michael Hutchence. Evocative, emotional and stirring, Into My Arms reminds us that even at the darkest times we're not alone, truly conjuring of the elusive spirit of duende.
Should it be called an Australian anthem? It was written by an Australian and has captured the souls of many Australians. But it goes beyond that. The love song speaks to people in a way that is universal, and that is surely one of Cave's most enduring qualities.