Citizenfour review – gripping Snowden documentary offers portrait of power, paranoia and one remarkable man | Film | The Guardian.
Citizenfour review – gripping Snowden documentary offers portrait of power, paranoia and one remarkable man
Laura Poitras's film shows the first extensive interviews with Edward Snowden after he blew the whistle on NSA and government intrusion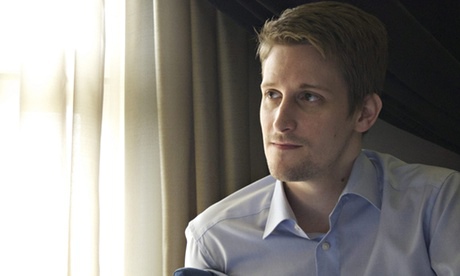 This documentary is about that very remarkable man, the former NSA intelligence analyst and whistleblower Edward Snowden, shown here speaking out personally for the first time about all the staggering things governments are doing to our privacy.
Fundamentally, privacy is being abolished – not eroded, not diminished, not encroached upon, but abolished. And being constructed in its place is a colossal digital new Stasi, driven by a creepy intoxication with what is now technically possible, combined with politicians' age-old infatuation with bullying, snooping and creating mountains of bureaucratic prestige for themselves at the expense of the snooped-upon taxpayer.
Yet in spite of the evidence put in the public domain about this – due to Snowden's considerable courage – there has been a bafflingly tepid response from the libertarian right, who have let themselves be bamboozled by the "terrorism" argument. There's also been a worrying placidity from some progressive opinion-formers who appear to assume that social media means we have surrendered our right to privacy. But we haven't.
Laura Poitras's film shows the first extensive interviews with Edward Snowden, conducted in his hotel room in Hong Kong when he first revealed his information to reporter Glenn Greenwald: Snowden contacted him under the handle Citizenfour. Greenwald wrote about it for Salon, in his book No Place to Hide and for this newspaper. Snowden risked his neck, revealing that despite official statements to the contrary, the US and the UK were widely using their ability to eavesdrop upon every phone call, every email, every internet search, every keystroke. The pre-emptive mining of data has gone beyond suspicion of terrorist activity. As Snowden says: "We are building the biggest weapon for oppression in the history of mankind," and a martial law for intercepting telecommunication is being created by stealth. This is despite the bland denials of every official up to and including President Obama, whose supercilious claim to have been investigating the issue before the Snowden revelations has been brutally exposed by this film.
Snowden himself seems notably calm and reasonable. Where Julian Assange is mercurial, Snowden is geeky and imperturbable, with a laid-back voice that sounds like that of Seth Rogen. Pressure that would have caused anyone else to crack seems to have have no real effect on Snowden, and he appears unemotional even as he reveals how he had to leave his partner, Lindsay Mills, in the dark. (She is now living with him in Russia, where he is in exile, a country whose own record on civil liberties provide a scalding irony.)
There are moments of white-knuckle paranoia. The interview is interrupted by a continuous alarm bell; Snowden calls down to reception, who tell him it's a routine fire drill. Snowden is satisfied by the explanation, but disconnects the phone in case it is bugged. When he types key passwords into his laptop he covers his head and arms in a bizarre shroud, like an old-fashioned photographer, so he can't be filmed. This is what he calls his "magic mantle of power". It looks absurd, but it isn't precisely melodramatic, and Snowden seems as if he both knows what he is doing and appreciates the absurdity of it all.
Meanwhile, governmental forces are ranged against him – and against ordinary citizens making a stand against snooping. Poitras shows us a scene from a US court case in which AT&T phone customers took action against having their affairs pried into. A sycophantic, bow-tied lawyer for the government tries to suggest that a court is not the proper place to discuss the matter. When a plain-speaking judge rebuked this weasel, I felt like cheering.
So what else can be done? There is a funny moment when Citizenfour shows how German chancellor Angela Merkel is far from amused at having her mobile phone conversations listened to by the NSA. It was an exquisite moment of diplomatic froideur and possibly did more to make Obama take this seriously than anything else.
Now activists are warning of "linkability". In US cities, subway commuters are being asked to put their transit pass accounts on their actual credit cards. One card fits all, and also gives officialdom access to a whole lot more of your information. British cities are being encouraged to do the same thing with "contactless" cards. Maybe we all need to think again. Citizenfour is a gripping record of how our rulers are addicted to gaining more and more power and control over us – if we let them.