Zwei zornige Bücher über den wachsenden Rassismus in den USA und die Konflikte, mit denen schwarze Vordenker nach der Obama-Ära zu kämpfen haben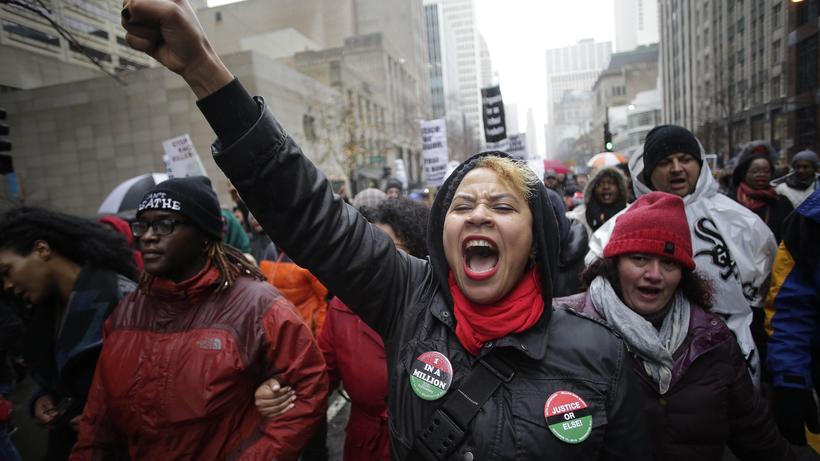 Rückblicke aus kurzer Distanz sind oft entmutigend. Die Obama-Ära zum Beispiel ist nicht lang her. Aber wie aus einer anderen Welt wirkt die Hoffnung ihres Anfangs: My Country, 'Tis of Thee sang Aretha Franklin 2009 bei der Inauguration des ersten schwarzen Präsidenten der Vereinigten Staaten, "Süßes Land der Freiheit". Und wer an Amerika als Modell einer neuen Welt glaubte, konnte meinen, jetzt breche überall eine neue – man sagte damals: postrassistische – Zeit an. Die Weltwirtschaftskrise sei ein dringenderes Problem als alte Rassenkonflikte, beschwor Obama die Amerikaner.
Heute geht es der Weltwirtschaft ganz ordentlich. Obama ist nicht mehr Präsident. Und die Rassenkonflikte der USA liegen schmerzlicher zutage als zuvor. Man nennt sie jetzt manchmal euphemistisch "Identitätspolitik". Der Streit darüber strahlt aus in die ganze Welt. In vielen Büchern versuchen amerikanische Autoren zu ergründen, was inzwischen geschehen ist. Davon erscheinen in diesem Frühjahr zwei auf Deutsch, die besonders bezeichnende Geschichten von Rasse und Klasse in Obamas Amerika erzählen: #BlackLivesMatter. Eine Geschichte vom Überleben, das Memoir von Patrisse Khan-Cullors, einer Initiatorin der gleichnamigen Protestbewegung. Und kommentierte Essays von Ta-Nehisi Coates aus den Obama-Jahren unter dem Titel We Were Eight Years in Power. An American Tragedy . (Die amerikanische Ausgabe erschien bereits im Oktober, die deutsche Übersetzung mit dem Untertitel Eine amerikanische Tragödie folgt im März).
Coates war als Journalist des Monatsmagazins The Atlantic der pointierteste Kritiker der ersten schwarzen Präsidentschaft. Deshalb wirkt es besonders glaubwürdig, wenn er sagt, dass die "Tragödie" nicht erst eintrat, als auf den 44. ein 45. Präsident folgte, den Coates den "ersten weißen Präsidenten" Amerikas nennt: "Es ist, als habe sich der Stamm der Weißen vereint, um zu zeigen: ›Wenn es sein kann, dass ein schwarzer Mann Präsident ist, kann auch irgendein weißer Mann – egal wie verkommen – Präsident sein.‹"
Ist Coates' Vorstellung von Freiheit neoliberal?
Coates verwendet in seinen Analysen einen Begriff von white supremacy, der nicht nur eine rassistische Ideologie bezeichnet, sondern im weitesten Sinne das latent schwelende Überlegenheitsgefühl der Weißen in einer von weißen Normen dominierten Gesellschaft. Diese Einstellung vieler Wähler habe Obama schon als aktiven Politiker in einen Konflikt gebracht: Von ihm sei erwartet worden, "nicht nur doppelt so gut, sondern auch halb so schwarz" zu sein. Deshalb habe er sich nicht so für die Anliegen der Schwarzen einsetzen können, wie es etwa Coates erwartete. Der kritisiert allerdings "seinen" Präsidenten, wie er ihn nennt, immer im Lichte des tragischen Verhängnisses: Weil die Selbstgerechtigkeit der Weißen nicht zu überwinden ist, musste daran selbst ein schwarzer Präsident scheitern, der das Beste wollte.
Und dabei verlor auch noch der Traum von der black power seine Unschuld: "Die Verbrechen des amerikanischen Staates gegen die eigene Bevölkerung zusammen mit den Bombardements im Jemen, in Afghanistan und dem Irak", so Ta-Nehisi Coates, "geschahen jetzt mit der Erlaubnis eines schwarzen Mannes."
Als einer der streitbarsten schwarzen Gesellschaftskritiker der Gegenwart in den USA ist Coates kürzlich selbst angegriffen worden, von dem bedeutenden schwarzen Intellektuellen Cornel West. Der versuchte in Sachen Kritik an schwarzer Anpassungsbereitschaft noch eins draufzusetzen, indem er auch Coates als Defätisten vor der weißen Mehrheit anprangerte: Er fetischisiere die white supremacy, die Vorherrschaft der Weißen, um zu verschleiern, wie schuldig man sich selbst gemacht habe, der "räuberischen kapitalistischen Praktiken, imperialistischer Politik (Krieg, Okkupation, Verhaftung und Mord) oder der Weigerung der schwarzen Elite, gegen Armut, Patriarchat oder Transsexuellen-Feindlichkeit zu kämpfen". Coates' Vorstellung von Freiheit sei neoliberal.
Da irrt West. Coates belegt doch aufwendig die materielle Realität struktureller Benachteiligung, entlarvt etwa die Mechanismen eines Immobilienmarktes, der den Vermögensaufbau schwarzer Familien behindert und Segregation als freies Marktgeschehen tarnt. Vielleicht könnte man Coates' Bewunderung für die vorbildlichen Karrieren von Michelle und Barack Obama neoliberal nennen. Aber er schildert auch sehr differenziert, dass ihre jeweils besondere Herkunft es den beiden besser als anderen Afroamerikanern ermöglichte, selbstbewusst in den Zentren der weißen Macht zu agieren. Barack Obama, der mit seiner weißen Mutter und deren Eltern in Hawaii aufwuchs, also weit weg von den schwarzen Vierteln und Schulen des Mutterlandes, erzählt selbst immer wieder, wie er sich als Student bewusst in die Tradition des Bürgerrechtskampfes einschrieb, sein Erbe stärker aus freien Stücken wählte als andere.
Tatsächlich bedarf es aber zu solchen Erfolgsgeschichten der Gegenerzählungen. Eine solche hat jetzt Patrisse Khan-Cullors beigesteuert, mit ihrem Buch über ihre Kindheit und die Entstehung einer Bewegung, #BlackLivesMatter. Eine Geschichte vom Überleben. Da erfährt man, wie Selbstermächtigung aus Unfreiheit entsteht: "Als ich zwölf wurde", erzählt Khan-Cullors, "lernte ich, dass mich meine Hautfarbe und Armut eher definierten als Klugheit, Neugier und Leistungsbereitschaft.